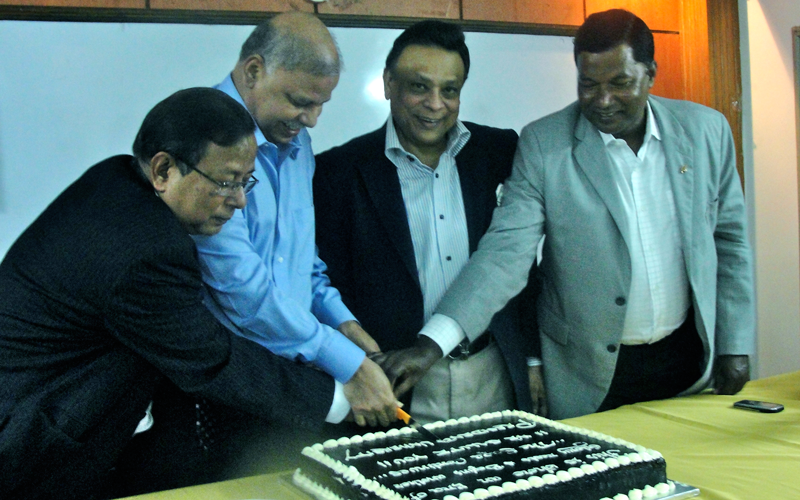 Reception and Farewell of New and Ex. VC
EVENT DESCRIPTION
An era of glory has just come to an end with the successful completion of the tenure of six (06) long years of Dr. M. Harunur Rashid as a Vice Chancellor on 12 June 2011 in Presidency University. Dr. Anwar Hossain, former Pro-Vice Chancellor of AIUB, has joined as the new Vice Chancellor. Yesterday, on 14 June 2011, a farewell and reception program has been organized on this occasion in the Aman Conference Hall, Presidency University, Gulshan Campus at 4.00pm. From Presidency University Foundation Mr. Moazzam Hossen, Chairman and Mr. M. Amanullah was present in the program.

In the farewell speech honorable former Vice Chancellor Dr. M. Harunur Rashid told about his working experience in Presidency University and expressed his dream about the future of this prospective university. He also told the audience about the individuality of this university considering the administrative structure, quality of the education etc. He expressed his gratitude towards the board member of Presidency University Foundation for being so liberal and respectful to his decisions. He finished his speech by thanking all present in the program and wished for the bright prospect of Presidency University.

Mr. Moazzam Hossen and Mr. M. Amanullah thanked the former Vice Chancellor for his contribution to this university and wished that the new Vice Chancellor will do the same and even more to some extend. They affirmed that they will provide full support to the university for its development. The new Vice Chancellor Dr. Anwar Hossain also shared his visions and plans about the university.

In the program all faculty members and the administrative personnel were present. The program ends with giving away a souvenir to the former Vice Chancellor Dr. M. Harunur Rashid and by receiving the New Vice Chancellor Dr. Anwar Hossain.
Organized By
Presidency University
Location
Aman Conference Hall, Gulshan Campus, Presidency Unviersity
Event Information
| | | |
| --- | --- | --- |
| | Category | Farewell |
| | Start Date | Jun 14, 2011 |
| | End Date | Jun 14, 2011 |
| | Start Time | 04:00pm |
| | End Time | 06:30pm |