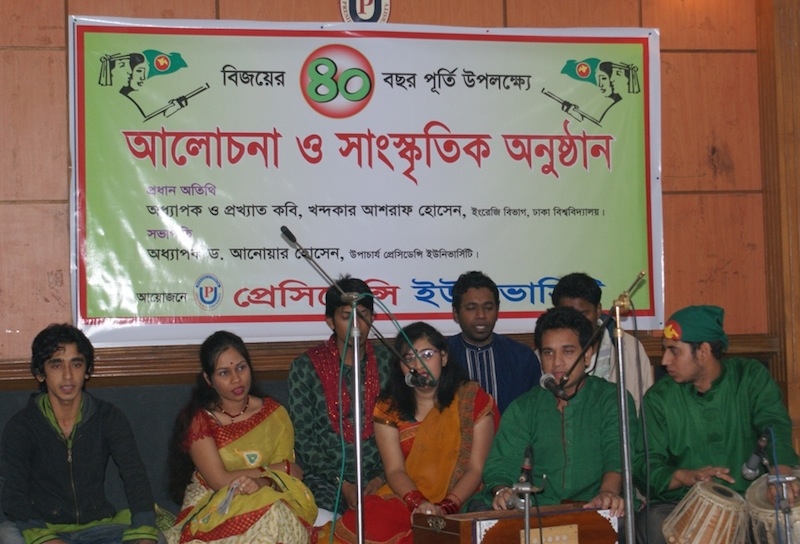 40 Years of Victory Day observed by Presidency University
EVENT DESCRIPTION
Presidency University organized a whole day program on 16 December. A seminar on "Emergence of Bangladesh and Glorious Victory Day" was organized.

In the seminar Vice Chancellor of the university Prof. Dr. Anwar Hossain presided over while, Professor of English Department, University of Dhaka and Poet Khandokar Ashraf Hossain was present as the Chief Guest. Following Head of Departments of Business School, Civil Engineering and English Prof. Dr. Muhammad Mahboob Ali, Dr. Mohammad Nazmul Islam and Shibli Ahmed Khan respectively were present as special guest.

The program was conducted by S.M. Abdus Shakur, Convenor of Business Club and Lecturer of the university.

Prof. Khandokar Ashraf Hossain commented that we must be careful about maintaining our independence and be optimistic about our country. Prof. Dr. Anwar Hossain observed that under the able leadership of Bangabandhu Sheikh Mujibur Rahman we achieved our independence.

The program was followed by a documentary "Muktir Gan" and students also recited poetry and sang several patriotic songs.
Location
Aman Conference Hall, Gulshan Campus, Presidency Unviersity
Event Information
| | | |
| --- | --- | --- |
| | Category | Cultural Program |
| | Start Date | Dec 16, 2011 |
| | End Date | Dec 16, 2011 |
| | Start Time | 10:00am |
| | End Time | 05:00pm |