Profile of the Vice Chancellor (Acting)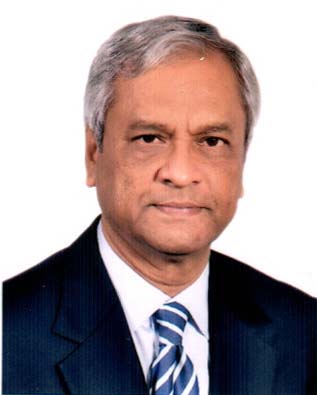 Professor Dr. Mohammed Muniruzzaman joined the Presidency University as the Vice Chancellor (acting) on 19th September 2020. He is also it's Pro Vice Chancellor. Professor Muniruzzaman retired as Professor of Physics from Jahangirnagar University (JU) in 2016. He was also JU's Vice Chancellor in addition to his duties as its Pro Vice Chancellor. He was Chairman of the Department of Physics, Dean of the Faculty of Physical and Mathematical Sciences and Director, Computer and Information Technology Institute at JU.
Dr. Muniruzzaman did his B.Sc. (Honors) and M.Sc. in Physics from Dhaka University and obtained 1st class in all public examinations. He obtained his DIC and Ph.D. Degrees from the Imperial College of Science Technology and Medicine, London, UK in 1978. He was a Commonwealth Post Doctoral Fellow at the University of Lancaster UK. He was Visiting Scientists at Osservatorio Geofisico Sperimemtale (OGS), Trieste, Italy on a TRIL Fellowship and at the Geological Survey of Japan, Tsukuba, Japan on a STA Fellowship. He was also a Visiting Faculty at Imperial College as a Commonwealth Fellow. He was an Associate Member of Abdus Salam International Center for Theoretical Physics, Trieste, Italy.
Professor Muniruzzaman is a recipient of the Bangladesh University Grants Commission Prize (now BUGC Gold Medal), a Fellow of the Royal Astronomical Society (FRAS) UK, a Fellow of the Bangladesh Physical Society (FBPS), Life Members of the Bangladesh Association for the Advancement of Science (BAAS) and the Bangladesh Physical Society (BPS). He was also a Member of the New York Academy Sciences and the American Physical Society.
Dr. Muniruzzaman was Vice President of the Bangladesh Physical Society, Founder General Secretary of the Bangladesh Geophysical Society, Treasurer of JU's Teachers Association. He was also the Founder General Secretary of the Imperial College and London University's Bangladesh Association. His biography also appeared in an international publication namely WHO's WHO IN THE WORLD (USA). He is also a contributor to The Daily Star.
Dr. Muniruzzaman hails from Kishoreganj married to Selina Zaman and has two sons.